FLOE LAKE PHOTO ADVENTURE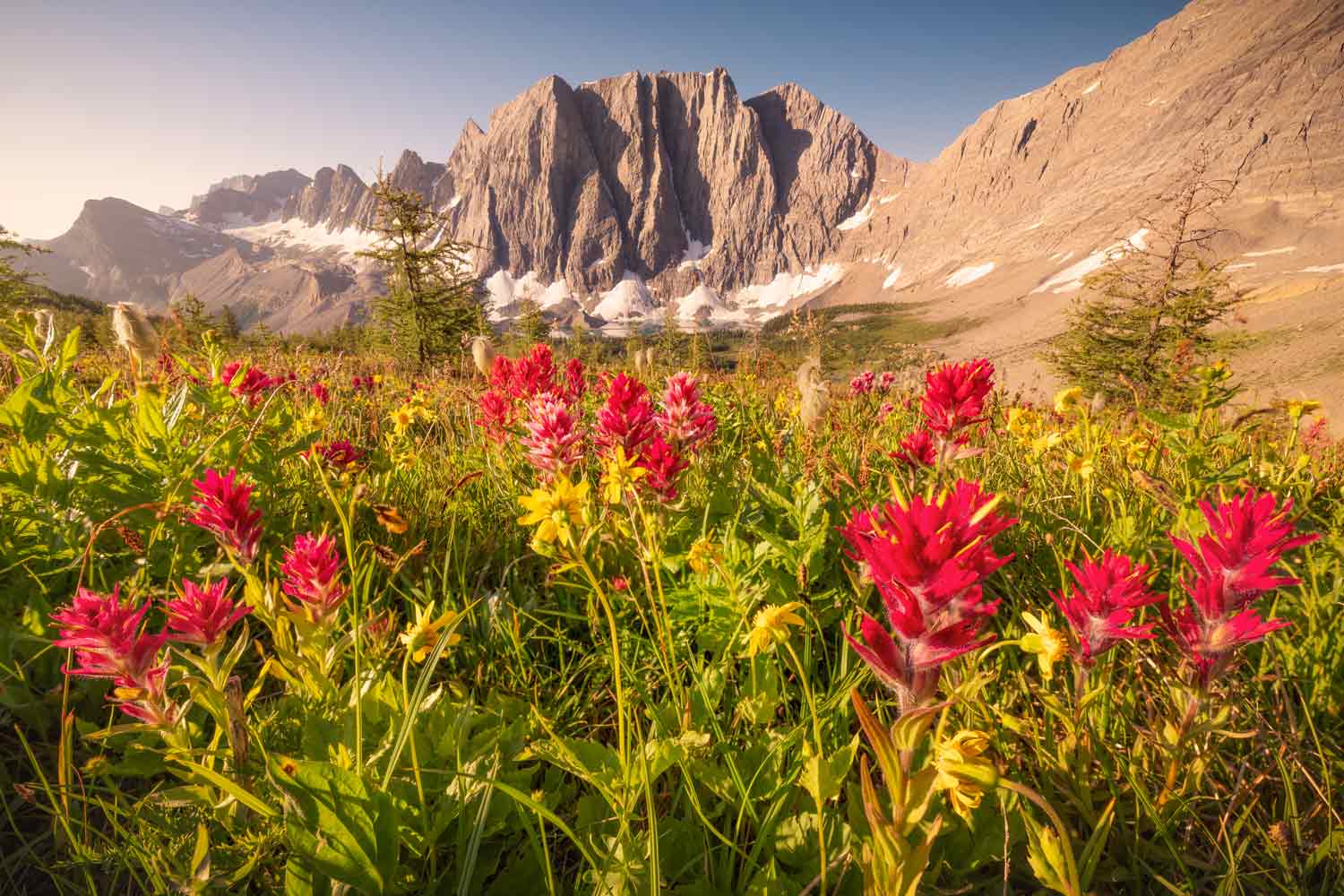 CAMP AT THE BASE OF THE IMPOSING 'ROCKWALL' & EXPLORE THE BACKCOUNTRY ON THIS ONE-OF-A KIND PHOTO ADVENTURE TO FLOE LAKE!
Photograph this Canadian Rockies classic in Kootenay National Park during peak larch fall colour (Dates: September 30th – October 2nd).

COST

$

750

+ GST (5%) / $ CAD

* Limited spaces available

** Dates: September 30th - October 2nd (2 nights)

*** We accept all major credit cards, debit cards, PayPal & more.
LEARN & IMPROVE YOUR PHOTOGRAPHY

For complete beginners and advanced photographers alike, we cater to you.


This trip will involve you learning as much as we can possibly fit into our time together. I'll always be working with you and your camera gear so that you will walk away a better photographer, get bucket list shots, and be inspired for your future photography shoots as you will have taken another step forward technically and creatively.

EXPERIENCE THE ROCKIES WITH A CERTIFIED GUIDE

Have confidence that you are with a professional guide who has your safety and enjoyment top of mind.


We are fully certified with two professional guiding associations in Canada, the ACMG (Association of Canadian Mountain Guides) as a Hiking Guide, and the IGA (Interpretive Guides Association) as a Professional Interpretive Guide. We are winter accredited in both as well meaning that we are an excellent year round choice to lead you on your next photo adventure.

WHAT OTHERS ARE SAYING

Some testimonials from past guests:


– "Nick is incredibly knowledgeable about both photography and the surroundings we're shooting in, which helped me connect more with the landscape. I learned so much in just a few days. He works with you and the style you like to shoot in and gives you tips and composition ideas. He ensured everyone in the workshop was safe and comfortable as well. I hope to do another workshop with Nick again!"  –  Ti-An

– "Spending a few days with Nick in the Banff area were days well spent! We loved Nick's patience and knowledge, never once making us feel inadequate, whether it was with our cameras or our physical ability to go places. His gentle reminders about technical use of our gear, and pointing out amazing compositions were all appreciated. Nick is not just knowledgeable about photography, but we also learned so much about the area, the geography and history. Within hours of meeting Nick, I felt safe, as if my own son was taking me on a vacation. I would not hesitate to book another tour with Nick and take my love of photography and the outdoors even further"  –  Sheryl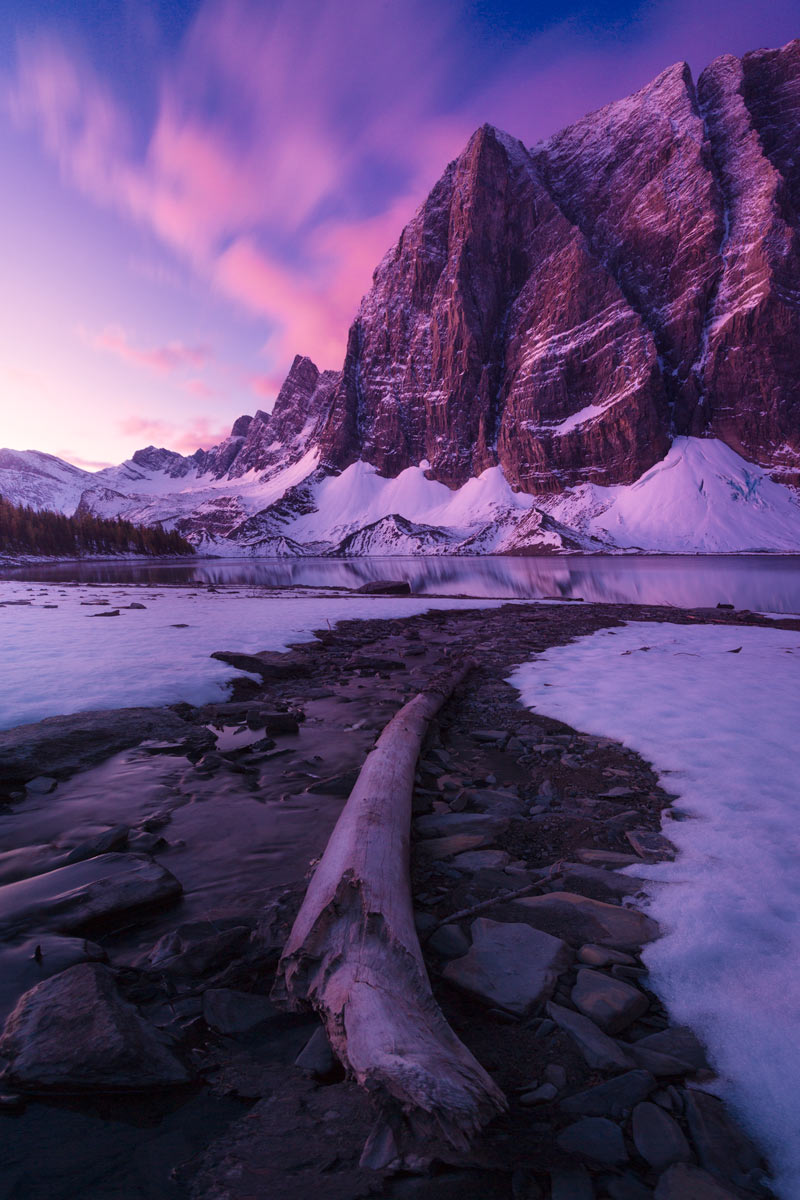 2023 FLOE LAKE PHOTO ADVENTURE
(2 night/3 day wilderness photography workshop)
What to expect
Join me at Floe Lake in Kootenay National Park on a 2 night hiking/camping wilderness photography adventure from September 30th to October 2nd!
This is a remote backpacking trip location with the most scenically spectacular campsite I've ever stayed in right on the edge of Floe Lake. It is well worth the uphill hike which is 10.5km with 800m elevation gain one way. You will need to carry all of your gear with you in a large pack which will include all of your camping gear, food & camera equipment. For this reason you will need to watch the amount of gear that you bring and prioritize lightweight items. I will be able to assist you with what to bring and how to pack. Contact me for an example packing list.
I recommend that you have a reasonable level of fitness, or work towards it over the course of the summer if you are thinking about joining. No camping experience is necessary, however experience carrying a backpack with gear for a few hours at a time and broken in hiking boots will ensure that you will be comfortable on this trip. The hike in is around 4-5 hours, and coming out is around 3 hours as we are hiking downhill. Slow and steady with lots of stops! These times vary depending on many different factors so are a rough guide only. Once we are there we will have a base from which to take only the necessities with us and to enjoy the area.
The campsite is located among the yellow larch trees which will be firing on our trip dates! We will explore all around the camp and also up towards Numa Pass on the second day to find some of the many compositions available. I can't wait to guide you to one of the most amazing places in the Canadian Rockies!
Pricing includes your camping reservation, 1v1 photography instruction throughout the trip, and a professional ACMG/IGA Hiking Guide.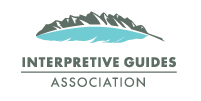 What to Bring
A detailed list will be provided to you after booking. This will include camera gear, clothing/hiking gear, & food ideas. All of it will need to be fit into 1 large backpack that you will need to hike in/out of the area with.
Start/Finish Time
We will meet in Canmore at 7.30am on Saturday September 30th in order to convoy/carpool to the Floe Lake Trailhead. We will be back at the Floe Lake car park by 2.30pm on Monday October 2nd.
Locations
Floe Lake Trail, Floe Lake, the campground & up to Numa Pass along the Rockwall Trail. Most of our shooting will occur lakeside and among the larches.